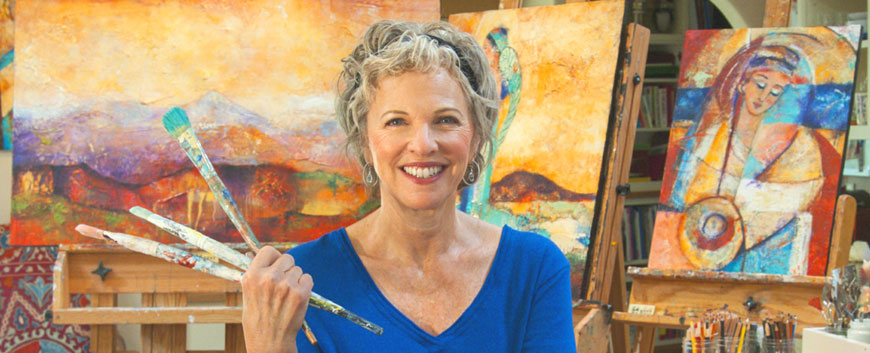 Artist Statement
Painting is how I express my devotion to the mystery of life.  For me, the mystery dwells everywhere, in every thing, but is often veiled by the activity and concerns of everyday life.
When I paint I recreate colors, shapes and gestures – impressions that offer themselves up from deep within. These images somehow lift the veils, allowing a glimpse of the mysterious to shine through.
Every aspect of my process invites the unpredictable nature of creativity.  By adding richly pigmented paint and then scraping and sanding, dozens of layers eventually evolve into a finished piece.  I use acrylics, oil pastels, glazes, pumice, metal leaf, and resins to build a highly textural, glowing and sensuous surface.  My paintings are expressionistic, often featuring the human form emerging from abstract geometric shapes and symbols.  They explore the numinous interplay between humans, animals, and the elements.
If paintings are windows, mine peer into a world where the line between archetype and ordinary reality is blurred, where the ancient rubs shoulders with the present. Through these windows, stories come to life, stories that can only be told in the potent and wondrous language of art.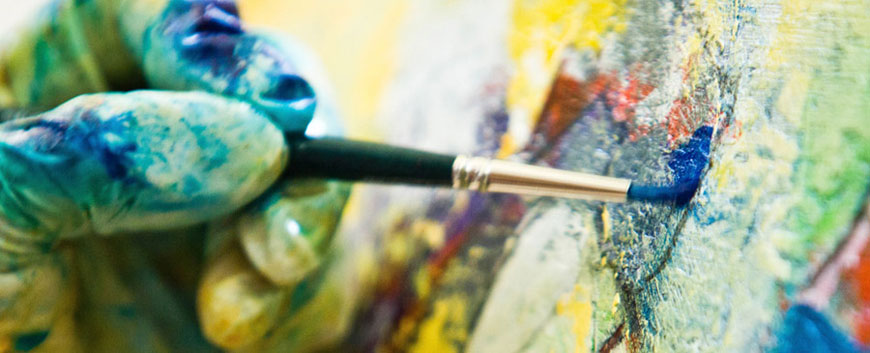 Artist Bio
Erin's passionate connection with the arts began at an early age. As a young girl growing up in Los Angeles, she would often visit art museums, then return home to spend days sequestered in her room with paint and paper, struggling to recreate the images she had seen.
When Erin attended UC Santa Cruz, she adopted the art department's A-frame painting studio in the redwoods as her second home. There, after the other students had departed and the fog had rolled in, she would spend the night, immersed in the creative process. Erin knew then that her life's work, whatever it might be, would find its strength and inspiration in this process. Erin graduated with honors from UC Santa Cruz in 1975 with a degree in Arts, Crafts, and their History. She went on to get a masters degree in 1978 in Expressive Arts Therapies from Lesley College in Cambridge, Massachusetts.
Erin worked as an Art Therapist in Massachusetts until she embarked upon a journey of spirit that continues to sustain her to this day. Traveling to and living in India, Erin spent several years immersed in the study of meditation and Eastern spirituality.  Setting aside the paint brush, she spent the next 20 years teaching people how to access and live in the creative flow of life.  During this period she also started and managed an artistic hand crafted furniture business, and co-founded and served as Executive Director for the Satsang Foundation & Press / Gangaji Foundation offering meditations and spiritual teachings throughout the world.
In 1997 Erin's life took a sudden and dramatic turn when she was a passenger in a head-on car collision. The head injuries she sustained temporarily – but severely – impaired the activities of her rational mind. No longer able to rely on logic and linear thinking, Erin was thrust into an experience of directly perceiving the world. Once she began to find her way through the confusion, the most prominent feature of her experience was one of being overwhelmed by the beauty she found in life. After 20 years, she began to paint again.
Erin paints primarily in acrylics to evoke shape, depth, movement, and atmosphere. Her work is expressionistic, often featuring the human figure emerging from abstract shapes. She uses rich colors to tell her stories, which are inspired by visions welling up from the mysterious world of archetype and symbol. Her paintings, often described as "worlds within worlds," explore the numinous relationships between people, earth, nature, and the divine.
Erin designed her painting studio — her sanctuary — to celebrate and amplify her deep connection with the natural world. Nestled in the Sierras, her studio/gallery is surrounded by rose bushes, dahlias, fruit trees and song birds, and is watched over by a towering giant sequoia. She lives with her wife Charlotte and their two Italian Greyhounds – Armani and Poochino.
Erin's paintings are held in private collections throughout the United States.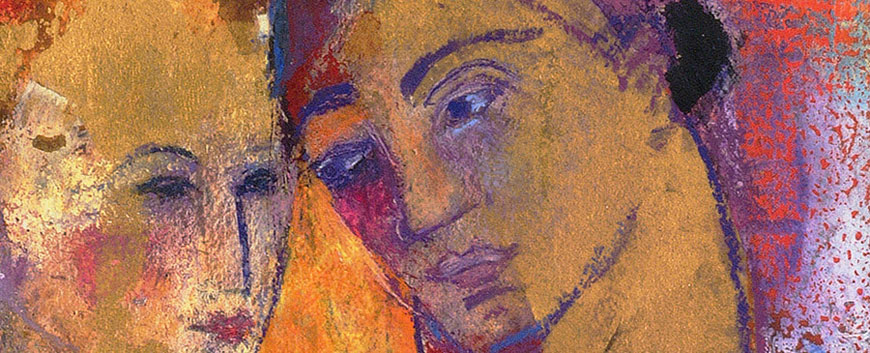 Selected Exhibitions
2014 Members Exhibition – National Association of Women Artists, NAWA Gallery, New York, New York
2013 Holiday Show, Waxlander Gallery, Santa Fe, New Mexico
2013 Members Exhibition – National Association of Women Artists, NAWA Gallery, New York, New York
2008 "Coming Full Circle", The Louvre, Grass Valley, CA
2007 The California Cooperative Art Project, State Capitol, Sacramento CA,
2005 Executive Realty, Nevada City, CA
2005 39th Annual National Exhibition, Placerville, CA
2004 "Where the Wild Thigs Are" Morthern Mones, Grass Valley, CA
2004 Center for the Arts, Nevada County, Open Studios, CA
2004 38th Annual National Exhibition, Placerville, CA
2003 Open Studios, Boulder, CO
2003 Boulder Public Library, Open Studios Exhibit
2002 The Creative Force Collaborative, Boulder, CO
2002 Kanegis Gallery, University of Colorado, Boulder, CO
2002 11th National Art Exhibition of Northern Colorado, Fort Collins, CO
2002 Boulder Art Association 11th Annual National Juried Exhibition, Boulder, CO
2002 "Art of Boulder", 2002, Pueblo Bank & Trust, Boulder, CO
2001 "Art Triumphs Over Domestic Violence," Boulder, CO
2001 Open Studios, Boulder, CO
2001 Boulder Public Library, Open Studios Exhibit
2001 Boulder Art Association 10th Annual National Juried Exhibition, Boulder, CO
2001 10th National Art Exhibition of Northern Colorado, Fort Collins, CO
2001 "Thresholds to be Crossed" – On Broadway, Boulder CO
2000 Open Studios, Boulder, CO
2000 Boulder Public Library, Open Studios Exhibit
2000 Brain Trust Foundation Art Exhibit, Boulder, CO
1999 Investors Independent Trust, Boulder, CO
1999 Open Studios, Boulder, CO
1999 Boulder Public Library, Open Studios Exhibit
1999 Boulder County AIDS Project Exhibit
1975 University of California, Santa Cruz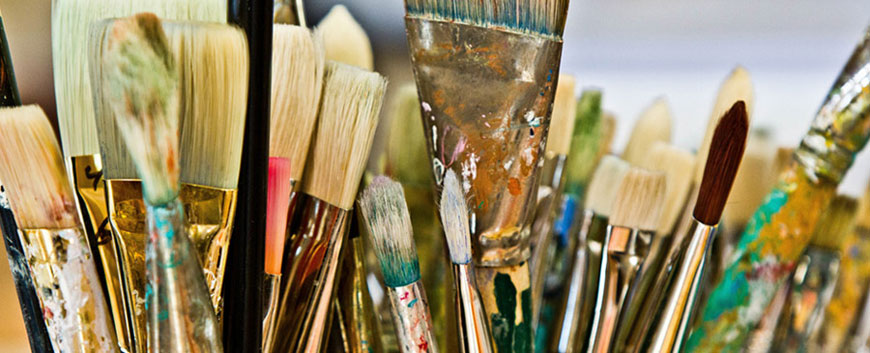 Awards
2004 1st Place: Northern Mines Art Show – figurative – Grass Valley, CA
2004 1st Place: Northern Mines Art Show – wildlife – Grass Valley, CA
2004 Hon. Mention: 38th Annual National Mother Load Exhibition, Placerville, CA
2002 Windsor Newton Award: 11th National Art Exhibition of N. Colorado, Fort Collins, CO
2001 Finalist: The Artist's Magazine National Art Competition
2001 Hon. Mention: 10th National Art Exhibition of Northern Colorado, Fort Collins, CO
Memberships
National Oil and Acrylic Painters' Society
Society of Layerists in Multi-Media
National Acrylic Painters Association USA
National Association of Women Artists
Teaching and Lecturing
2003 Judge: City of Boulder Art Festival, Boulder, CO
1999- Present Teacher: private workshops and lectures throughout the United States
1999-2000 Teacher: Naropa University, School for Continuing Education, Boulder, CO
1976-1991 Artist, Art therapist A.T.R., Psychotherapist and Educator; creativity training and workshops, innovative therapist training throughout the U.S., and in Canada, Germany, England, Switzerland, Japan and India